Roles:

 D
esign-Led Research, Synthesis, Strategy & Implementation
In Collaboration with:
Alik Mikaelian
Fragmented Wisdom is a deep investigation into a woman's connection with her body & how intergenerational connections might face anti-ageist  & feminist culture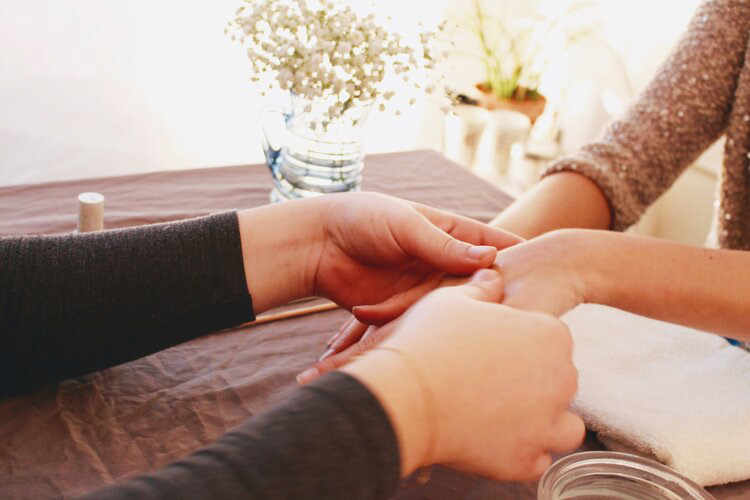 "We have bodies that we experience the world through, but at the same time, we also are bodies. This concept of embodiment captures the very intricate and dynamic relationship we have with our bodies that is tied to our deepest sense of self. Whether we like, tolerate, celebrate, or fear our body, we still experience it in very intimate ways that define how we exist in the world."
Through our thesis, we wanted to explore this intimate dynamic relationship, specifically as it relates to women. A woman experiences numerous transformations over the course of her life, starting with the menstruation cycle, to having a baby for some, and then experiencing menopause. These transformations are embodied experiences, where women's bodies are both the objects and subjects. They are biological changes as much as social, influencing a woman's relationship to her body and consequently the world around her.
Background & Research
In our thesis project the body presented a central focus and foundation for what we know, experience, and imagine about aging. We were interested to explore, question, and reimagine the way we attach value to ourselves as women through our body.
Throughout our process, we were actively engaging with different women, organizations, and communities by attending events, building connections, and conducting interviews while supporting our findings with secondary research. These investigations were done simultaneously and non-linearly as part of a deeper problem reframing around women and their aging experience. Through speaking with women and older adults about their
lives, stories and narratives emerged about women's experiences over the course of their lives. This process resulted in the formulation of an actionable design question.
How might we move away from binaries and open more diverse conversations about our aging bodies?
How might we draw attention to the wisdom of cumulative experience held in a woman's body?
SEMI-STRUCTURED INTERVIEWS:
The semi-structured interviews that we conducted with women we met along our research journey gave us empirical insights about a woman's aging experience. 
For each interview we designed tools that allowed for the emergence of ideas and facilitated comfortable conversations.
The insights gathered from the interviews and secondary research were synthesized into four themes which helped in framing the actionable design brief we were formulating:
Body dissociation
Invisibility
Negotiation of self
Accumulation of injustice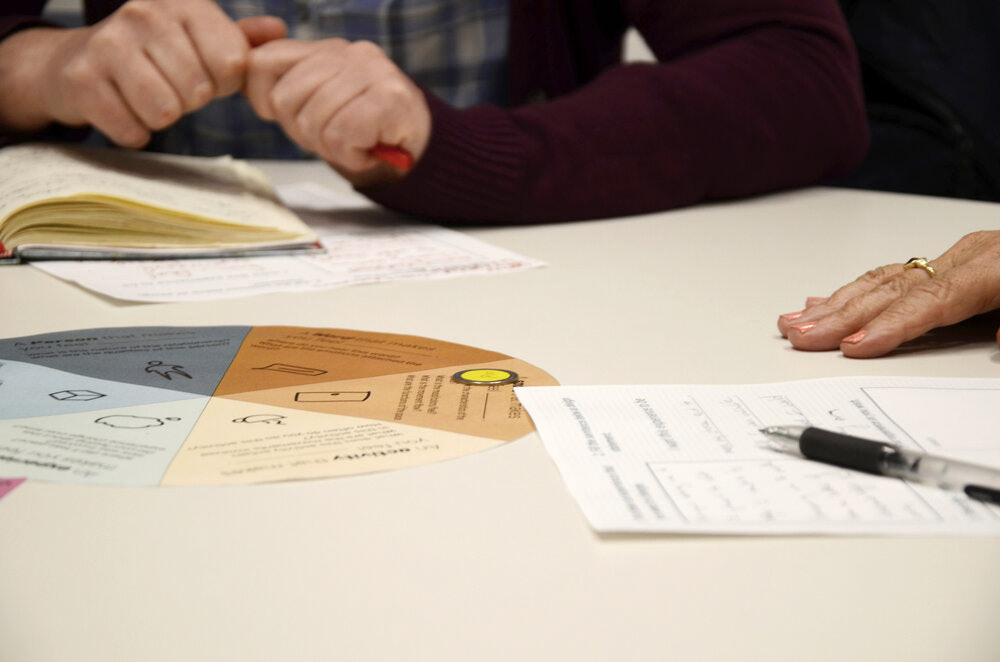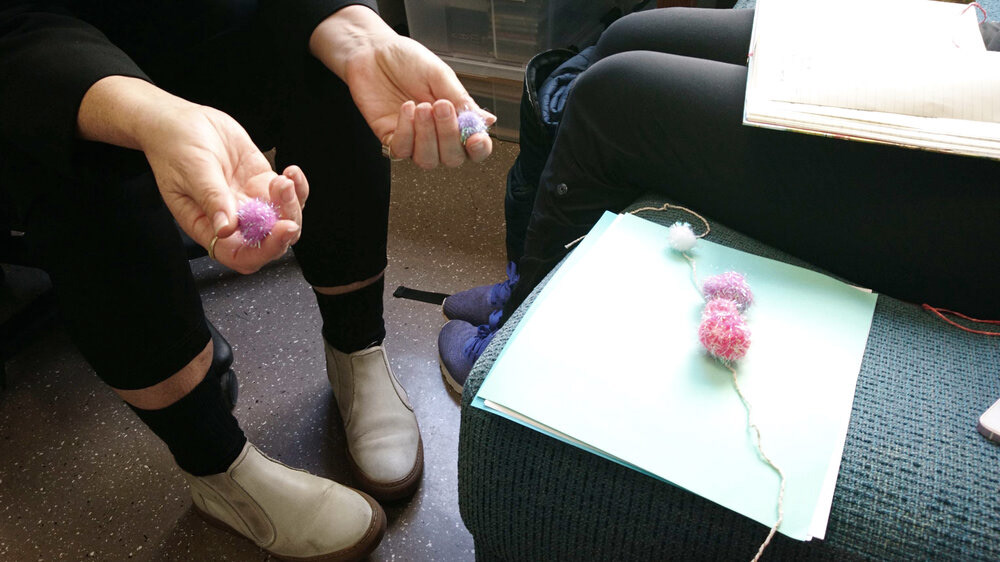 LETTER, AND RIBBON WORKSHOPS
Language simultaneously allows us to express and shape our thoughts. The way we build narratives about our body greatly influences how we feel about it. Thinking about ways to reframe conversations surrounding women's bodies, we first set out to understand the different narratives women already have about their body using probes and workshops. Through these tools we were looking into the different ways women related to their bodies, as well as examining how different body parts might be sites of different emotions.
• The letter probe
Was designed to unpack and make visible the complex relationship in a simple form of writing a letter. The letters were collected both manually and digitally by asking participants to follow a simple reflective process. The 30 letters we collected were analyzed 30 to surface insights and patterns.
• Ribbon workshop
Wanting to explore more communal approaches we designed and conducted a more embodied and discourse-oriented activity, with 8 women from the different organizations we had been engaging with throughout our process. During this workshop participants were asked to reflect, embody, and share their body narrative together.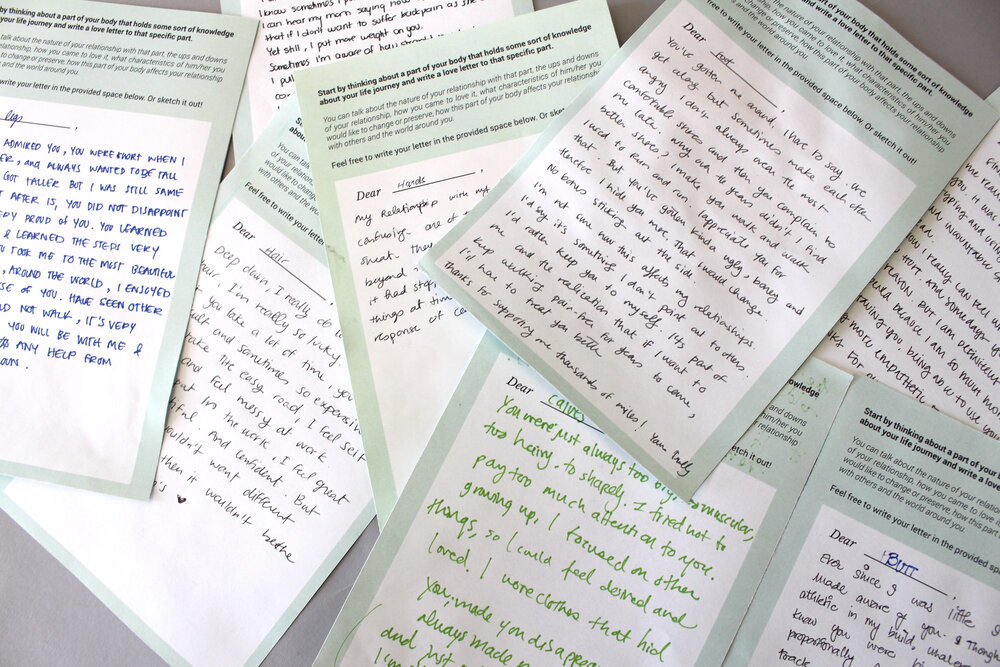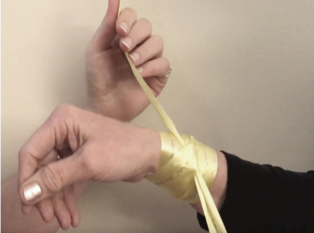 Data Analysis & Synthesis
The body and its experiences are generally approached with a binary mindset. Through our primary research, we found that people describe their bodies and the emotions attached to them as either "good" or "bad", "Thin" or "fat", "full of energy" or "exhausted", "Attractive" or "not". 
While often times described in these binary terms, our emotions and experiences are actually more ambivalent than we lead on. However, describing things along a spectrum between good and bad is not always easy and welcomed in our society. 
Psychologists say that when people over simply their internal experience, the lack of ambivalence poses an emotional risk. For some women the risk might manifest during certain stages in their life where they are faced with situations that force them to negotiate their relationship to their body. As we've found throughout our primary research, these moments of negotiation for women may include puberty, pregnancy, miscarriage, deciding not to have a child, postmenopausal changes, relationships, changing careers, among many others. 
Other binaries that govern conversations about the body are found in medicine and psychology. What is "normal" has historically been based off of male and youthful bodies. During our first half of our thesis reach we looked extensively in the binary between the old and young body. We always compare the older body to the younger one, drawing attention to what is lost over time, instead of appreciating the complexity and considering it without comparison.
Instead of a model that sees the world through binary lenses, we hope to design for a more poignant one.
Poignancy, in psychology, is a mixed emotional experience, especially in older age when looking back on the past. We hopefully find ourselves happy to have experienced beautiful things in life, yet saddened by the fact that our time has passed.
We believe that aging is inevitable and have found that women's aging experiences are mixed. And while designing both our research and prototypes, we were conscious in designing tools that allow poignancy to emerge. 
Building on findings from our research and designed exercises, we developed design criteria that are essential for guiding our project outcomes
1) USING SCALE AS A WAY TO REFRAME
Shifting between body part and the whole provides a person with a more accessible start and allows for a more focused reflection.
2) CROSS/MULTI-GENERATIONAL
As reflected upon our process, casual, social activities that are inclusive of many generations together are lacking. We experienced a dissolution of our internalized ageism while conducting our research. Therefore, our design will involve multiple generations of women sharing together.
3) CELEBRATE POIGNANCY
In order to break the binary discourse that we sometimes have around the body, it is important to highlight the normalcy of ambivalent feelings about one's body.
4) ENCOURAGE COMMUNAL SHARING AND CONNECTIOn
Many women we have spoken to have expressed the desire to share their experience with others as a way to foster confidence and acknowledgment of shared female experience.
Case Study
It is undeniable that women put a lot of time, money, and emotional investment in their bodies. Whether they are following a trend, using their body as a form of expression, practicing self-care, or recovering from a health matter, they are all engaging in practices that are embedded in everyday reality and shaped by a woman's relationship to her body. Just as design has reinforced a lot of the norms and culture that surrounds these intimate practices, we believe it can also play a role in deconstructing and challenging the narratives that society attaches to a woman's body.
We strategically chose a place where women currently gather and focus on their bodies: A nail salon.
Our intention with this proposal is to design spaces and tools for women to reflect on their relationship with their bodies, record that reflection, and share it with other women.
We proposed our design to Sundays Salon in Midtown Manhattan and spoke with Amy Lin Ling, owner and business entrepreneur. The salon was a perfect fit for our prototype since they already have meditation, massage, and headsets amongst their offerings. We were accepted to install Fragmented Wisdom alongside an anti-aging cream that they were also launching at the time.
51 E 25th St, New York, NY 10010